Tango found me by accident sixteen years ago… Wanting to pick up the fiery samba or passadoble, I walked into a latin dance studio and stumbled onto an Argentine Tango class. Something about the sounds of the music hit close to home; growing up in Russia, I remember my grandmother listening to Leshenko's and Utesov's tango tunes on the old radio transistor. This was the opposite of what I came to the studio for. Something made me stick around, and within two months my story resembled that of many fallen tango angels: dancing every night, practicing giros in my living room, travel to Buenos Aires, dropping a year's salary on tango shoes, outfits, and Wolford stockings, manipulating business travel around tango cities, etc. etc.
This also launched my kinesthetic journey into other modalities. Yoga, Alexander technique, Feldenkrais, Contact Improvisation, and Michail Chekhov acting training helped me embody the conversation of tango. Ballet, pilates and floore barre helped me shape the aesthetics of the dance, and 8 years of classical piano left my ears open for the rich textures of tango music. Becoming a craniosacral therapist hass transformed my understanding tango into a form of a healing art, whereby physical, emotional, and spiritual balance emerges through resonance with another person.
By far the greatest influence on my dance was immersing myself in the Artengine tango and non-tango culture by traveling yearly to Beunos Aires and living a 24-hour tango life.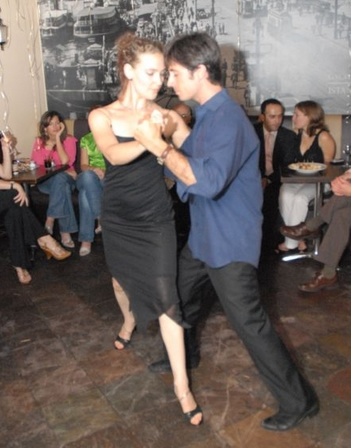 The more I dance, the less I can define tango. These days, it changes its definition with every dance. To put it simply, it's a chance to meet myself and my partner where we are on that day, in that moment.
The maestros that had most influence on my dance were Melina Brufman, Claudio Gonzalez, Eugenia Parilla, Cecilia Gonzalez, Mauricio Castro, Pablo Veron, Fabian Salas & Carolina del Rivero, Gustavo Naveira, Chicho Frumboli, Julio Balmaceda & Corina de la Rosa, Jean-Sebasitan Rampazzi, Osvaldo Zotto & Lorena Ermocida, Milena Plebs, Guillermina Quiroga, Andrea Misse, Fernanda Ghi & Guillermo Merlo, Mariela Franganillo, Luciana Valle, Pablo Pugliese, Susana Miller, Carlos Gavito & Marcela Duran. I probably forgot an army of others from whom I've learnt in the last sixteen years in person, by dancing with them, or just by watching them on the dance floor, but many thanks to all of them for helping me shape my dance.